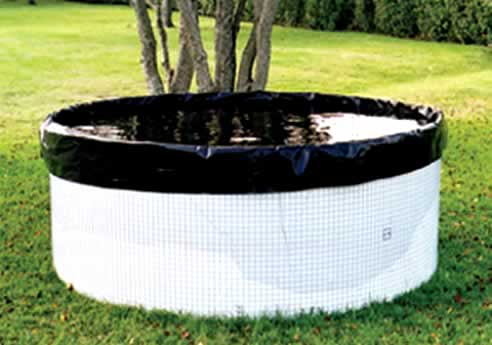 Quick Tanks are perfect for emergency storage, aquaculture, irrigation-rainwater collection, small backyards with small access, under decks, and much more.
Available imported from the US within 3 weeks to most places in Australia.*
Quick Tanks are inexpensive, lightweight and easy to assemble. Kit (which can fit in the back of a medium sized car) includes:
Fence (1.5" x 1.5" mesh) 48" high.
Liner (black or white) heavy duty plastic using NASA technology, plus hose insert.
Pre-liner with geotextile for the wall and bottom.
Fence locking wire loops.
Installation instructions.
Diameters Available:
1.8m (6ft) diameter tank, 3� 6� high, 2700 litres.
10ft, 15ft, 20ft, to 30ft - 70,074 litres!
Check your state for government rebates.
Victoria gives up to $1000 if you connect to your toilet and laundry.
*Depends on availability from the US at the time of order.